Since 1980, Barry has worked with members of the US Team and with athletes from around the world. He was the composer and arranger for the Atlanta Olympics MAG 7 Gold Medal US Team and the 1992 Bronze Medal Barcelona Olympic Team. Athletes who have worked with him recently include Aly Raisman, Shawn Johnson, Chellsie Memmell, Shayla Worley, and Samantha Peszek .
Barry Nease has arranged for: Aly Raisman, Shawn Johnson, Chellsie Memmel, Shayla Worley, Samantha Peszek, Daria Joura, Shannon Miller, Kim Zmeskal, Svetlana Boguinskaia, Dominique Moceanu, Ludivine Furnon, Morgan White, Tatiana Gutsu, Dominique Dawes, Amanda Borden, Jaycie Phelps, Keri Strug, Jessica Davis, Betty Okino, Kathy Johnson, Brandy Johnson, Tracee Talavara, Kelly Garrison, Dianne Durham, Elfi Schlegel……. WOGA, Chow's, Cincinnati Gymnastics, Parkettes, IGI, Karolyi's, Dynamos, Browns, University of Utah, University of Alabama, University of Georgia, Australian National Team……….. Bela Karolyi, Marta Karolyi, Geze Pozsar, Antonia Markova, Peggy Liddick, Adriana Pop, Nancy Roach, Wendy Hilliard, Muriel Grossfeld, Toby Towson…
Aly Raisman
2012 Olympic team and floor exercise gold medalist and balance beam bronze medalist
Most decorated American gymnast at the 2012 Games, winning three medals
2012 U.S. balance beam and floor exercise champion, and all-around bronze medalist
2011 World Championships team gold medalist and floor exercise bronze medalist
2010 World Championships Team silver medalist
2011 CoverGirl Classic all-around, vault (tie) and floor exercise champion
Shawn Johnson
2008 Olympics, Beijing: 1st-BB 2nd-AA, FX, Team
2007 World Championships, Stuttgart, Germany: 1st-Team, AA, FX; 8th-BB
2008 Tyson American Cup, New York, N.Y.: 2nd-AA
2007 Tyson American Cup, Jacksonville, Fla.: 1st-AA
2007 Visa Championships, San Jose, Calif.: 1st-AA, BB, FX; 3rd-UB
2006 Visa Championships, St. Paul, Minn.: 1st-AA & VT & BB & FX; 2nd-UB (Jr. Div)
Chellsie Memmel
2008 Olympics, Beijing: Team Silver
2005 World All-Around Champion also Silver-Beam and Bars
2006 World Championships – Team Silver
2003 World Championships – Team Gold – Also Bars Gold
2003 and 2005 Pan American Champion
Shannon Miller
59 International Medals (over half gold)
49 National Medals (over half gold)
7 Olympic Medals (2 gold, 2 silver, 3 bronze)
9 World Championship Medals (over half gold)
Only American to win consecutive world titles (1993, 1994)
Kim Zmeskal
1992 Olympics: Team Bronze
1992 World Championships Gold Medalist (2)
1991 World Champion
1990, 1991, 1992 US National Champion
Samantha Peszek
2008 Olympics, Beijing: Team Silver
2007 World Championships – Team Gold
2007 Pan American Games – Team Gold
2007 USA vs Great Britain – Team Gold, 1st – Floor Ex, Vault
2006 Junior Pan American Championships- 1st-Team, FX; 2nd-VT; 4th-AA
Dominique Moceanu
1998 Goodwill Games Gold Medalist
1997 World Championships Team, Individual All-Around Finalist
1996 Olympic Gold Medalist
1995 World Championships Silver & Bronze Medalist
1995 Senior National Champion
1994 Junior National Champion
Geze Pozsar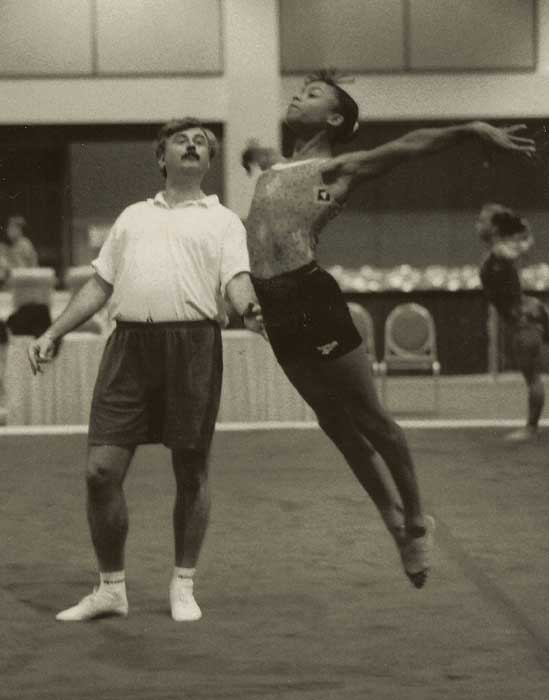 Choreographer for the Romanian National Team and then the US National Team including
the entire Mag 7 Atlanta US Olympic Team.
His legendary list of credits include Nadia Comaneci, Mary Lou Retton, Diane Durham, Kristie Phillips, Phoebe Mills, Betty Okino, Kim Zmeskal, Shannon Miller, Dominique Moceanu, Dominique Dawes, Jaycie Phelps, Amanda Borden, Kerri Strug, Amy Chow…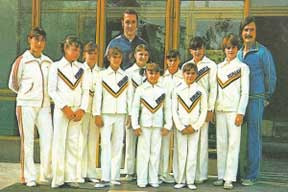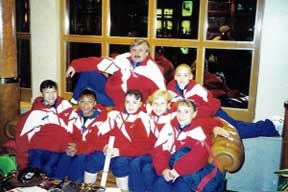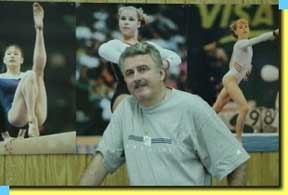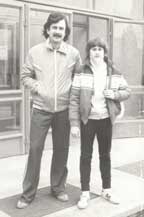 1992 USA Olympic Team

Wendy Bruce
Dominique Dawes
Shannon Miller
Betty Okino
Kerri Strug
Kim Zmeskal
Michelle Campi, alternate
Bela Karolyi, Coach
Shayla Worley
2007 World Championships – Team Gold
2007 USA Championships – All-Around Silver Medalist
2007 USA vs Great Britain – Team Gold, 1st-Bars, 2nd AA
2006 Tyson American Cup – All-Around Silver Medalist
2006 Pacific Alliance – Team Gold, UB Silver
Morgan White
2000 Olympic Games Team Member
1999 World Championships Team
1999 Pan American Games All-Around Champion
1998 Junior National Champion
Ludivine Furnon
1998 French National Championships: 1st all-around
1998 European Championships: 4th team & 5th floor
1997 French National Championships: 2nd all-around
1997 World Championships: 5th team, 22nd all-around
1997 French Cup: 1st all-around
1996 French Cup: 1st all-around, 2nd vault
1996 Olympics: 8th team, 19th all-around
1996 European Championships: 5th team, 9th all-around
1996 World Championships: 7th floor
1995 World Championships: 6th team, 3rd floor
Tia Orlando
2004 U.S. Olympic Team Trials
2003 Pan American Games 1st-Team, 1st Floor Exercise
2003 US Classic (San Antonio, TX) 4th AA, 6th BB, 1st FX
2003 American Classic (Boston, MA) 4th AA, 1st FX
2001 & 2002 Floor Exercise Junior National Champion
Katie Heenan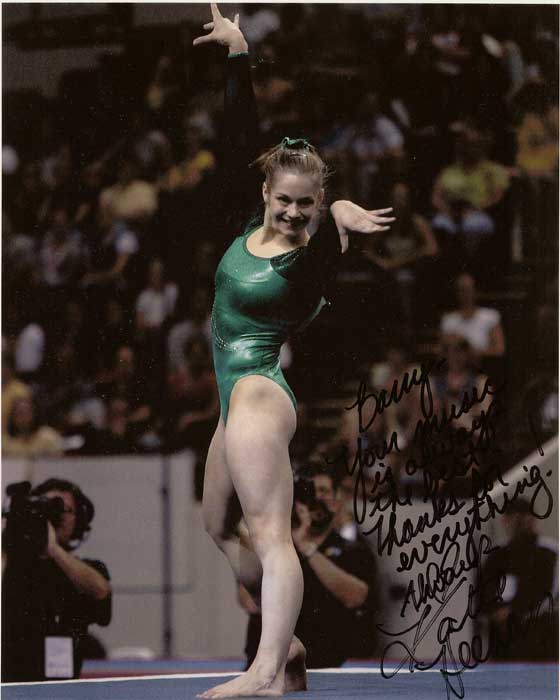 2004 U.S. Olympic Team Trials
2003 Uneven Bars National Champion
2001 World Championships Double Bronze Medalist
2001 Uneven Bars National Champion
Jessica Davis
Rhonda Faehn
1988 U. S. Olympic Gymnastics Team
1987 and 1988 U.S. Vault Champion
1987 Pan American Games Gold Medalist (U.S. Team)
1987 World Championships – highest U.S. finisher (19th)
U.S. National Team Member (1985-88)
Kristy Powell
1997 World Championships Team, Individual All-Around Finalist
1997 National All-Around Co-Champion
1996 World Championships (Individual Event Semifinalist)
1996 U. S. Olympic Team Trials
Melanie Palenik
Ellen Breen
1991 World Freestyle Skiing Acro Champion
1993 World Freestyle Skiing Acro Champion
1994 World Freestyle Skiing Acro Champion
1995 World Freestyle Skiing Acro Champion